Only Company Administrators can add/create new users. User permissions are set by the Company Administrators. Users can be granted access to multiple divisions and have distinct permissions.
There is no limit as to how many regular users can be assigned to a company. However, user logons must be unique. Payway recommends that the logon name convention be the user's email address.
To create a new user, login on the admin home page and select the "ADD USER" button on the toolbar.

Add information, permissions and credit limit of the new user.

| | |
| --- | --- |
| Name | Description |
| Logon Name | Typically, user's email address for uniqueness |
| Dept/Notes | Optional information |
| Time Zone | Time zone where the user is located, so that transaction time reflects the user's time zone |
| First Name | First name of the user |
| Last Name | Last name of the user |
| Phone | Phone number of the user |
| Email | Email address of the user |
Permissions

Description

Read

Find a transaction or account and run reports

Sale

Perform a sale

Void

Perform a void

Cred

Perform a credit

Accts

Perform an account creation (token)

Batch

Upload a batch of transactions for processing

Credit Limit

Maximum amount a user can credit per transaction when the Credit
permission is granted
Once complete, select the "ADD" button on the bottom of the screen. A popup window will appear with the activation code for the new user and an email will be sent to the user with a temporary password.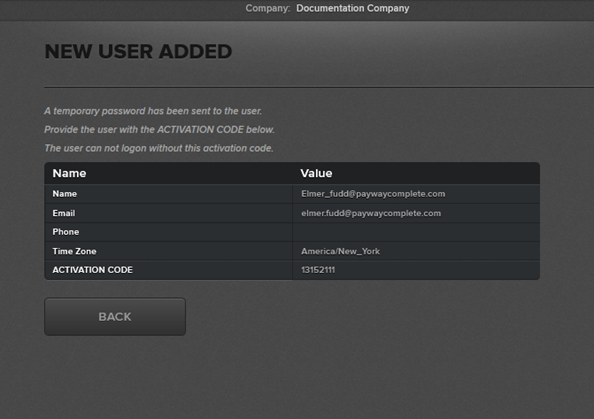 Activating the new user's account
The new user logs on using the username and temporary password that was emailed to them by Payway: https://edgilpayway.com/payway/logon.jsp
Upon entering the username and temporary password, the user will be prompted to enter the activation code and change the password. The user must change the password at this time and Select "ACTIVATE."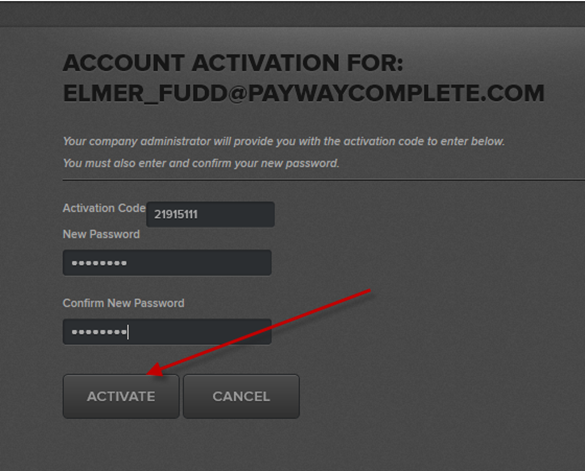 The screen will redirect to the Payway login screen.